The other day i thought about making this web site and share some legit information, you guys in the right place we fix all major appliances 818-298-8165 we are the most reliable company in west hollywood! you want to ask why? Because we do this for leaving we are Local West Hollywood Appliance Repair ( Refrigerator Repair | Dryer Repair Pros we give you written protection we protect your appliances in the future , we provide your Refrigerator in West Hollywood the reason we do that because we always here for you to solve any of your refrigerator dryer washer walk in refrigerator repair in West Hollywood * Family Owned and OPERATED Company > ONE WAY APPLIANCE Experts of WEST HOLLYWOOD , California
We explain to all our customers exactly how to maintain their household appliances because if you don't do that eventually it will give up on you , so we do give you all the tricks how to avoid that in West Hollywood and Eagle Rock ( we provide special discounts on following brands [ Whirlpool | Maytag | Frigidare | Sub-Zero Refrigeration we fix the most of west hollywood and la we the most respectful and recognizeble appliance repair company in west hollywood ONE WAY APPLIANCE Repair Experts one of the best Appliance repair companies
We repair Washing machines (Washer repair in west hollywood 1-818-298-8165 One Way ONE of the best companies in West HOLLYWOOD , YEY YEY that's what the ICE Cube said,
1WAY Appliance Repair ( One Way Appliance Repair of West Hollywood ) We fix all MAJOR appliances Like:
REFRIGERATOR REPAIR West Hollywood (Sub Zero Thermador VIKING Whirlpool Maytag Frigidare Amana GE LG )
DRYER REPAIR West Hollywood We consider our self as the best appliance repair company in west hollywood and eagle rock )
WASHER REPAIR aka Washing machine repair Hollywood and West Hollywood. MAKCOH brands the best on the We$t
WALK - IN REFRIGERATOR / FREEZER REPAIR in west hollywood we got the most reaspnab;e service call in the industry it all goes from $20 - 65 and make sure you mantion our promotion code " SERVICE20" and we will provide you with the written estimate from LIcensed and Insured appliance repair company in hollywood so we are the Local ones that come to the rescue!
DISHWASHER REPAIR Experts of West Hollywood | We will provide you with the written warrany ! We give you our word we do what we do stay true we repair & maintain all major brands ( Fisher and Paykel , Bosch, Thermador , VIKING , maytag, frigidare, whirlpool, amana, hot-point)
AIR-CONDITIONING REPAIR Local repair technicans always here to resolve any of your appliance repair problems, we are the realest appliance repair company , we run this industry for real that our deal! no cold no problem we adjust the free on we replace capacitors and relays also compressor replacement in west hollywood and eagle rock, we repair ac and walk in refrigerators
We carry all necessary equipment to provide you with the same day appliance repair and service in hollywood and eagle rcok, We carry chinalak to repair youur fridge you please no need to worry ! we Repair LG Maytag Frigidare we keep in it real we would like to thank all our past and future customers, without you guys it won't be us let's make this WORLD to circulate....
We are t he local appliance repair providers, we are the best on the west , ONE WAY APPLIANCE Repair Industry one of the best appliance repair companies in the industry in we fix em all from A to Z ( refrigerator repair, washer repair , dryer repair oven repair , stove repair, walk in cooler repair experts 1-818-298-8165 we always on time and within your budget!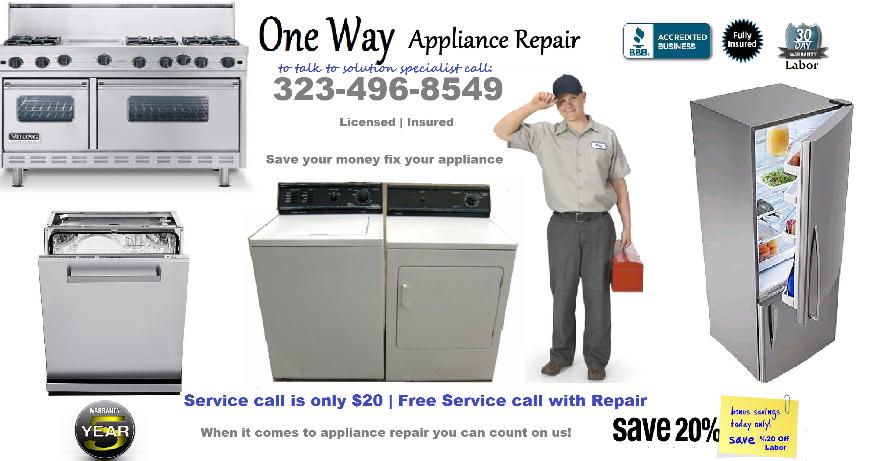 This web site is a property of the One Way Appliance Repair | Copyrights 2008-2020 MAKCOH818